Regular price
Sale price
Rs. 195.00
Unit price
per
Sale
Sold out
Welcome to AATHIYAM, your one-stop-shop for healthy and delicious breakfast options! We're excited to introduce our latest creation - Choco Millet, the perfect breakfast cereal that's both nutritious and delicious!
Our Choco Millet is a unique blend of Jowar, Bajra, Ragi (Finger millet), Chana dal, Oats, Moong dal, Quinoa, Corn grit, Jaggery, and Cocoa Powder, making it an ideal option for those who are looking for a gluten-free breakfast alternative that's packed with nutrients. Unlike traditional chocos that are loaded with maida and wheat, our Choco Millet is made with a nutritious blend of millets, dals, and other wholesome ingredients, making it a guilt-free treat for the entire family.
Our Choco Millet is high in fiber, protein, and essential vitamins and minerals, providing a balanced and healthy breakfast option that keeps you feeling full and satisfied throughout the morning. It's also free from any artificial colors, flavors, or preservatives, making it a safe and healthy choice for kids and adults alike.
At AATHIYAM, we are committed to promoting healthy eating habits, and our Choco Millet is no exception. It's a tasty and healthy breakfast alternative that's perfect for busy mornings or on-the-go snacking. So why wait? Try our Choco Millet today and indulge in a guilt-free breakfast that's both delicious and healthy!
Order now and get your box of Choco Millet delivered straight to your doorstep. You won't regret starting your day with the goodness of millets and the indulgence of chocolate!
Ingredients: 
Jowar (Sorghum Millet), Bajra (Pearl Millet), Ragi (Finger Millet), Chana Dal, Oats, moong Dal, Quinoa, Corn Grit, Skim Milk Powder, Jaggery, Cocoa Powder, Rice Bran Oil, Rosemary Extract.
Directions: 
Step 1 : Pour 300ml of cold milk in a bowl. Step 2 : Add 30g of Choco Millet Step 3 : Stir with spoon & enjoy.
Shelf Life:
6 months from the date of manufacture.
Share
View full details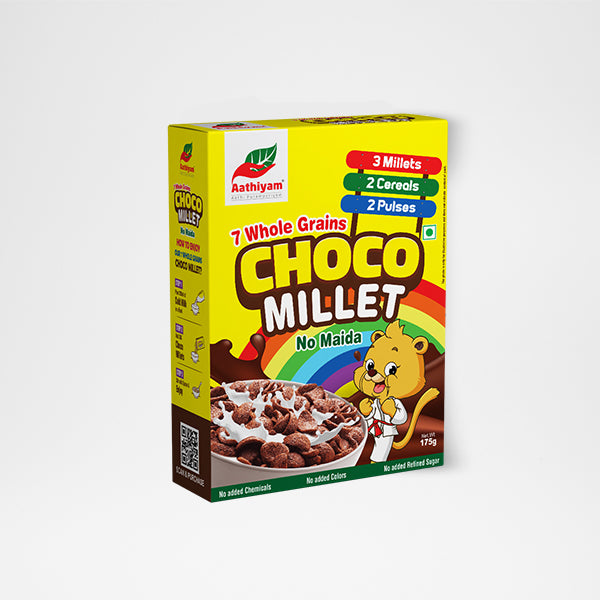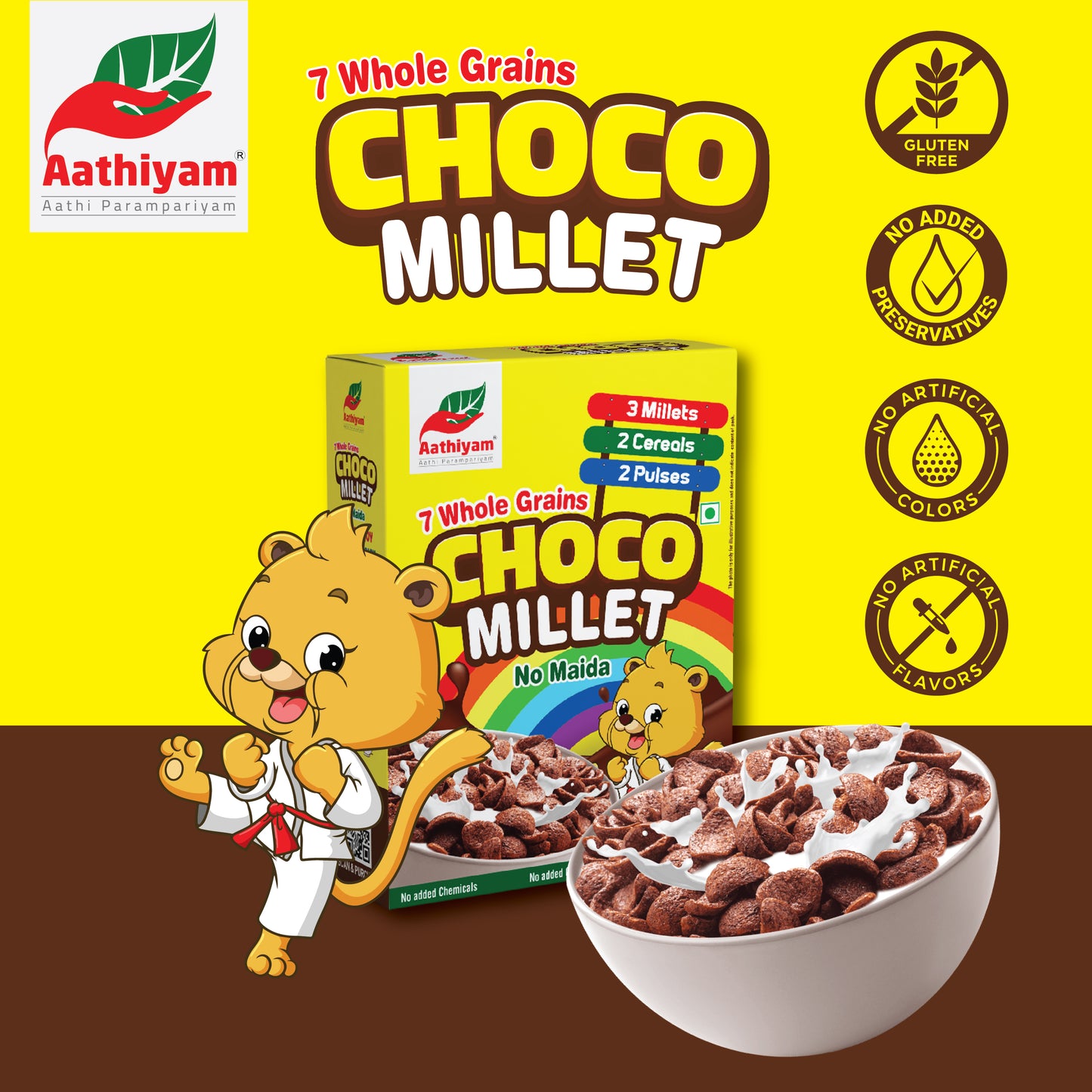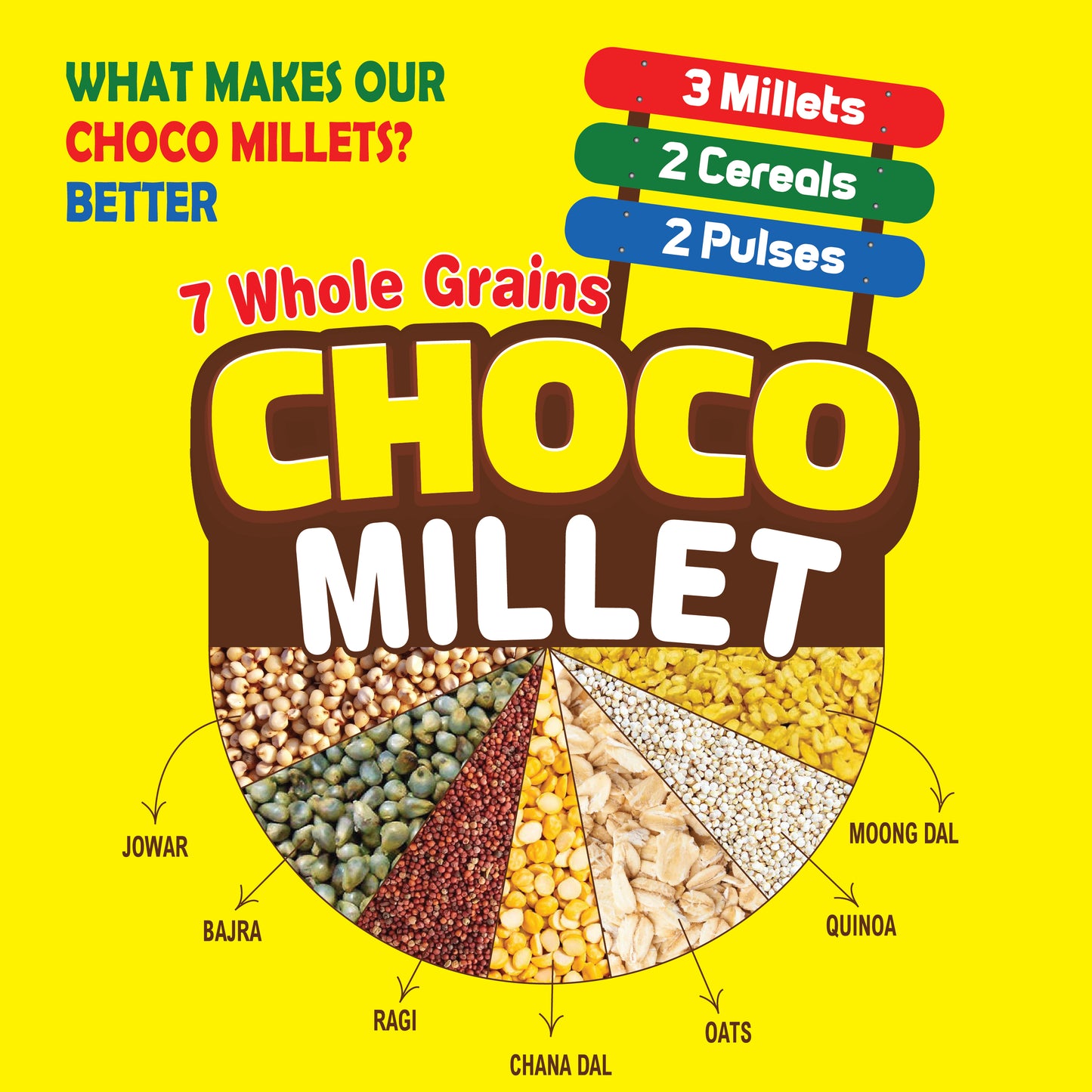 Good product .
It became My kids favourite .
Delicious treat in a healthy version
My kids loved the taste and no compromise in taste too
Excellent!!!
My kid loved it... I can give it to her guilt free because it's so healthy and tasty ... just like kellogs chocos....
Thank you 😊
Choco Millet review
I had very recently tried Aathiyam's newly introduced Millet Chocos product. It was a win-win for us, because both my kids were happy with the taste and I could serve it to them guilt free, as it was maida free and white sugar free as well as loaded with goodness of both super nutrious Millets and pulses...Thankyou for the highly anticipated launch and its worth it! Kudos to your team...